How Jump Rope Workouts
Burn Fat Like Crazy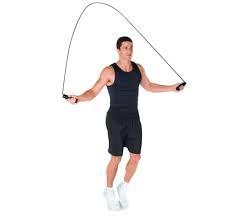 The first ingredients for effective jump rope workouts are a decent skipping rope and some space. Next is to know what kind of workout you need to see significant results. While intensity and progressive consistency is needed to get the fat burn you need, the jump rope is an effective and fun way to get and stay in shape.
To help you get started with your jumping rope workouts, have a look at the benefits and the sample workout in this article.
I remember when I used to play jump ropes as a kid. It was a fun way to play with friends or alone. I didn't realize then that it can be used as a form of cardio workout. I was quite a noob when I was young but now mastering some jump rope skills is a priority and a new way to look at cardio.
Advantages of Jump Rope Workouts
The skipping rope may look like some simple workout equipment without any benefits. But don't be fooled. The jumping rope has lots of benefits. Let's have a look at a few:
You can do such workouts anywhere, which is a good thing if you travel a lot or stay at home.
It's a great, inexpensive workout tool. If you are a beginner, you can start right away.
A jumping rope helps you to burn a lot of calories and fat if you do it strategically.
You can also easily incorporate a jump rope to go with all your other workouts for variety. Add a few jumping rope workouts in-between your weights to burn more fat. And include jumping rope with your other cardio exercises to torch even more calories.
Sample short jumping rope workout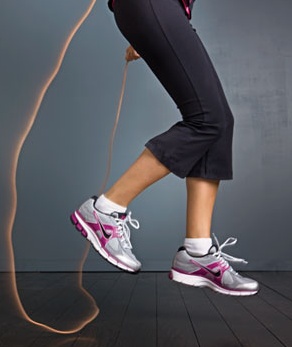 Here's a short jumping rope workout you can do anywhere. Start with 10 minutes of jumping rope workouts at a time if you are a beginner. Then slowly build yourself up as you get good at it.
Instructions for sample skipping rope workout
Minute 1: Warm up gently and slowly for about 1 minute.
Minutes 2-3: Then increase your pace for about 2 minutes.
Rest period: Rest for 20 seconds.
Repeat the sequence 3-10 times, depending on your energy and fitness levels.
Jump Rope Workout Styles
Here's a few different types of jumping styles you can include in your skipping rope workouts. Add a few of these workout styles to your jumping rope workouts and alternate them with two legged jumps and normal jump styles.
Run jumps
Skip with alternating, high legs.
Skier jumps
Jump from side to side.
Straddle jumps
Jump first with closed and then with wide feet.
Calories Burned
Depending on the intensity and duration of your jump workout, you can expect to burn 300 to 400 calories per 30 minutes of skipping rope.
To burn more fat, find a way to eat less along with your jump rope workouts.
Return from Jump Rope Workouts to Cardio Workouts Page and read related topics
or
Return to the Weight Loss Tips Home Page
Like the Article? Donate a Dollar by Clicking on the Link
Want More?
Join my newsletter for exclusive weight loss tips on diet and exercise you won't find anywhere else and as a bonus 2 FREE weight loss e-books! Just enter your name and email below: